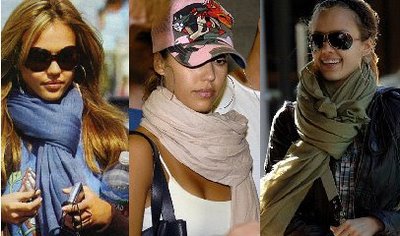 I had a question about what the deal with scarves was, especially in the summer time. The truth is that it's a super casual way to glam up an outfit. It gives that "off-duty model" look in an instant. As you can see above, Jessica Alba proves that it can be worn with almost any outfit. The easiest way to create this look is to fold a long scarf in half, wrap it around your neck, and pull the ends through. I find that a thinner cotton is great in the summer, but silk and cashmere are always classic choices too. Another way to wear it is to just wrap it haphazardly around the neck. It's supposed to be casual, so don't worry about being too uptight.
And just a little shout out to my boys, the scarf is also a hot trend for you. It can be tucked in to a jacket for a super-glam look, wear it with a sweater for a preppy look, or just throw it on with a t-shirt and jeans for an easy, fun outfit.
One final thought. American Apparel has a great "
circle scarf
" basically it's a scarf sewn into a circle, like a scarf necklace, that you can twist into any fabulous shape you choose. Yet another great way to rock the scarf!